The world has changed so much since I last posted. I was actually working on a new post titled "Silver Linings" and had planned to publish it last Friday, but then the world changed.
I went with my mom to the grocery store last Thursday. I've never seen it so chaotic or the shelves so empty. As we were leaving, I felt a tightness in my chest and realized I was on the verge of a panic attack.
On the ride home, my mom mentioned that she was scared because if she contracts COVID-19, she was certain she wouldn't survive.
I began working from home on Friday.
I went into work yesterday to take home files. It was so empty and everyone was so quiet.
I'm taking strength (and distraction) from the work being done to take Temple's operations online. When I was at Temple yesterday, I realized just how much I've grown to love the community that usually fills that building. It was spooky seeing it so quiet.
Right now I'm watching the URJ's town hall webinar. Until I joined the webinar, I hadn't allowed myself to cry and then I saw these faces filling my screen: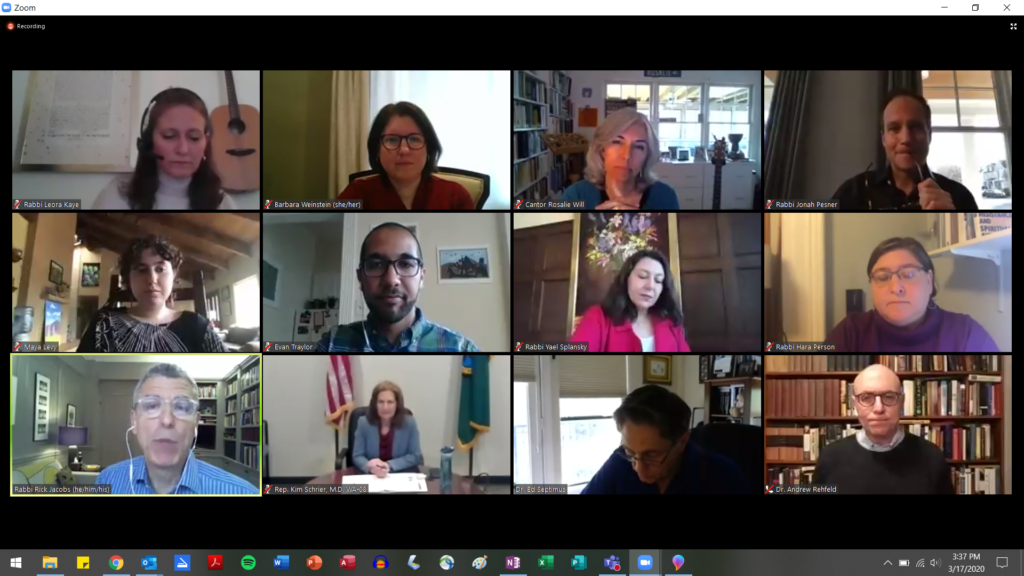 I burst into tears. They are all leaders in their own rights, either in the Reform movement and/or in their career field. I know many of these people and have admired their work from afar. I don't want to cry in front of my mom because I don't want to add to her stress. I don't want to cry in front of my colleagues because there is work to be done and I need to work, to have a distraction that prevents me from dwelling on what is going on. But I cried when I saw these faces because I felt safe. I am deeply grateful for this community every day, but especially during these challenging times.
Let each of us understand what our role is in this effort to repair the world in partnership with You, so that one day You will be One and Your name will be One.

Amy Asin, "Nisim B'chol Yom (Prayer for Daily Miracles) for Coronavirus"