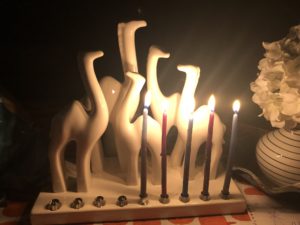 At the closing retreat of the JewV'Nation Fellowship's Jews of Color (JOC) cohort, April Baskin pointed out that I was one of a handful of JOCs employed in a leadership position at a synagogue in the country. That, as you can imagine, startled me and as I mulled over her statement, realizing it was true, I began to think about the implications. I have never thought of myself as any sort of role model, much less one that has broken (or at least cracked) an invisible barrier. But now that I have, what does that mean?
I met with Rabbi Stern today to discuss a d'var Torah he asked me to give about my JewV'Nation experience. I thought I would be giving a short talk at the Saturday morning service (which is not my favorite service), but he said it could be at the Friday night service, a group of students, and many more possibilities. Tonight a friend approached me and asked if I would be willing to talk to a fellow JOC who is navigating her own Jewish journey. Last week, I was asked to be a mikvah witness for one of my current students who is completing his conversion. A few parents have emailed me to say that their children enjoyed my class.
I've spent so long searching for light to bring into my own life and it turns out that I have been spreading my own light without even realizing it.